➤ SATURDAY, JUNE 12:
Dear 3Crosses Family,
As we look forward to the remaining portion of 2021, we're hopeful and are praising God as we see COVID case rates drop across the country and specifically in Alameda County. As we have done our best to respect our governing authorities and to help our church family feel safe and cared for, in this new reopening phase that's coming on June 15th we will continue in this manner.
A message from Alameda County states, "California plans to fully reopen the economy on June 15th. Everyday life will feel a lot like before covid-19. Restaurants, shopping malls, movie theaters, and most everyday places will be open as normal with no capacity limits or social distancing required. Of course, anyone can wear a mask anytime they'd like, especially around children and others who are vulnerable or not yet eligible for vaccination."
As we have done throughout this season, we have thought through and prayed through our next steps as a church and we have decided that beginning on Tuesday, June 15th facial coverings will be optional for all 3Crosses staff and for the guests of 3Crosses and Cafe 4 (Cafe 4's staff members will continue to follow industry standard guidelines and 3C Kids & Students Middle & High School will follow school safety requirements).
It has been our intention to stay in step with not only how we believe God is leading us through prayer and fasting, but also with our community, other local churches, and with our government leaders on this matter of health and safety for our congregation and staff. We respect and honor your right to continue to wear a facial covering and we encourage you to do so especially if you are in or around an at-risk population, are unvaccinated, or do not feel comfortable not wearing a facial covering in public places.
We understand that there will be many people who will choose to continue to wear facial coverings and we want you to know that we support you in your decision to do so. We pray and ask that, though our opinions may vary, we all remain nonjudgmental (James 4:11), unified in Christ (John 17:21), and loving towards each other (1Cor 13:4-7). 3Crosses is a place where we can come as we are, belong, know that we are loved and needed, and where we are transformed by the Holy Spirit to bring glory to God alone. It's a place where we are reminded that our purpose is to Reveal God and Restore Hope to our community.
Please continue to be in prayer for our church leadership and for our community as we know that this season is not completely over. Please continue to pray for us as we rebuild our volunteer communities, welcome groups back on campus, and rebuild church ministries over this coming year.
Praying for you all,
Danny Strange, Senior Pastor

For additional details please read the FAQs section below.
2020 Highlights
GOD GRACIOUSLY ALLOWED US TO BE A PART OF SO MANY THINGS LAST YEAR!!
Here are some of the highlights:

We Celebrated Baptisms

last February. We absolutely

love

to see God working in amazing ways as He continuously transforms our lives!

We Launched Church Online

for the first time in 3Crosses' history. We have already heard many stories of people who are far from God connecting with church for the first time! We also finished our sanctuary remodel during the summer which will allow us to continue Church Online into the future and last year, we redesigned the 3Crosses app.

We Discovered Innovative Ways to Gather our Church Family Together

in the midst of this tumultuous year.

Virtual Community Groups have helped many stay connected during 2020.
Our Senior Adults zoom group is bringing connection and life to so many who are in an at risk population.
Our Men's Ministry is continuing to meet weekly outdoors.
Women's Ministry hosted a virtual retreat this past October and they are continuing weekly virtual Bible studies.
Our Kids and Students Ministries hosted promotional drive-thru parades to celebrate graduating classes.

Kids and Students have also been reaching out to our youth through social media platforms, they've provided some limited and safe in-person meet ups, and they've connected through virtual summer camps.

Our church congregation safely met to worship together at some 'pop-up' services. During the summer nights we hosted 'The Fireplace' parking lot service and we were able to gather together, inside the main sanctuary, for a couple of months before the holidays.

We Cared for our Local Community Like Never Before!

The Food Pantry through CrossStreets Ministry served hundreds of families at the start of the pandemic. As we now begin to build our

3C Care Network

we are continuing to love and care for under resourced families in our surrounding communities.

We joined a number of organizations who connected through the

Castro Valley Matters

for

Feed Eden

– to provide lunch and a light parade for the staff at Eden Medical Center in Castro Valley.

We also took time to recognize and Thank Essential Workers and support local business (

like

Top Thai, Bronco Billy's, Lucca's Deli, Rudy's Donuts, & more):
~ In CASTRO VALLEY: Highway Patrol, Ruby's Place (shelter), Pete's Hayward;
~ In HAYWARD: Hayward Fire Dept, Hayward Conv Hospital, St Rose Hospital;
~ In SAN LEANDRO: Building Futures (shelter), San Leandro Hospital, San Leandro Post Office

Our church family partnered together to 'Share to Care' and raised $2,500 for

Foster the Bay

and their efforts toward providing a loving home for every child in foster care.

We were able to partner with

Transforming the Bay with Christ

, donating +12k masks to 15 different Hospitals.

We were also able to love and care for people through our benevolence fund with over $116,000 in direct assistance to families in our communities for rent, utilities, internet access for distance learning, medical bills, transportation, tuition, etc.

Again this Christmas, we reached out to highlight and support our year-long ministry partners: Shepherd's Gate, CityTeam, the Salvation Army of Hayward & Oakland and RealOptions (formerly Support Circle) in love and care for our surrounding communities.

We Committed to See the Unseen

. This year we formed an Advisory Community to begin,

and continue

, the conversation on seeing the 'unseen' within our church family and our surrounding communities. We also partnered with other local churches to pray together for our communities and to better listen and love those around us.

We Filmed 'The Sights and Sounds of Christmas'! Our Music & Arts Ministry lit up the hill as we filmed a Christmas Gospel musical presentation that was viewed by over 4,700 people.
We Watched the Gospel take root and grow around the globe through our Missions partnerships.

Not only did support of missions during 2020 increase but giving to the Christmas Missions Catalog was

three times

what it was in 2019 resulting in tens of thousands coming to Christ in the 19 countries we support.
Thank you for being a part of 3Crosses in 2020! We are excited as we look into 2021 -- as we continue to rest in and pour out Christ's redemptive and life transforming love into the East Bay and beyond!
Dear 3Crosses Family,
Many of you have heard that our State's COVID-19 numbers significantly have increased and this has pushed our State and County back into the Purple Tier (highest). In light of this and in order to best care for our community, we will be making some adjustments to the way worship together:
We will not be having indoor gatherings, at this time
We will continue streaming online services from our main auditorium and our online chat room will be open for those wanting to connect in community or ask for prayer
We will continue our online and outdoor ministries (following health guidelines)
We are moving forward with our drive-through Christmas experience, the Sights & Sounds of Christmas on December 19th-24th
Cafe 4 will be open Monday - Friday for takeout and with optional outdoor seating
We know that this is disappointing and we want you to know that we are praying for you, your families, those affected by COVID-19 and for our country as we all are faced with such discouraging news coming into the holiday season.
Please feel free to reach out to us if you have any questions or concerns by emailing .

We look forward to seeing you again soon!
At 3Crosses we're passionate about worshiping God as a church family and creating spaces for community with other believers for encouragement and connection. In fact, we've loved getting to see so many of you on Sunday nights at The Fireplace as well as at the online services.
As we look ahead at Fall, we realize that not only will schools remain closed but many other things may as well. We see this as an opportunity to gather in smaller, more intentional groups and we'd like to invite you to join us!
We know that everyone is in a different place in how and where they are worshiping during this season and whether it's been online or in-person, we're so grateful that you've been joining us!
We realize that many will want to continue to meet online, but for those who are comfortable expanding their circle to safe, in-person gatherings, we are launching something called Watch Parties (part of our Reopening Plan). These meetings will be at places where you can gather in spacious outdoor venues &, when safe, indoor venues to view our streamed worship service with others in your area.
Some of you already are gathering, within your social bubbles, to watch the sermon on Sundays and we want to encourage you to be intentional about discussing the sermon with the people around you. Use the discussion questions in the note section on the online platform or in the app to discuss the message with your family and friends. Christian community is an important part of Life Transformation and learning to follow Christ.
For those that aren't quite ready, we will continue to offer 3Crosses Online and our Welcome Team will be available to chat and pray with you. We know that God is moving wherever you're worshiping Him whether you're gathering in a Watch Party venue, in backyards, or in living rooms.
Dear 3Crosses Church Family,
As we navigate this difficult season in our world, we realize we've been wrestling through two big issues simultaneously: (1) a global pandemic in this season of COVID-19 and shelter-in-place and (2) deep issues of racial prejudice and injustice that have been brought to light in our country once again. The depth of our pain and hurt is, at times, overwhelming. At 3Crosses we believe that racism and injustice grieve the heart of God too. It is the role of the Church of Jesus to model unity and reconciliation within our own faith community as well as equip our people to be "ministers of reconciliation" and live as change-agents in our world.
Our primary goal in this season has been to take a posture of listening to those who are hurting among us. We've started the listening journey through individual conversations as well as assembling a diverse community of individuals within our church where we can have open and healthy conversations about our own experiences of racism and injustice. We've had over 180 people express interest in joining that community, and we are excited to meet together for the first time soon.
We want to be "quick to listen" as a church community (James 1:19) and we are committed to speaking and acting in accordance with the teachings of the Scriptures (2:12). Pray for our ministry as we discern some healthy next steps for our church along these lines.
We want to continue to grow towards a more equitable normal, as we listen and look for ways to promote long-term deep change in our community and in our country.
Over the past couple of weeks we reached out to over 2,000 people from the core of 3Crosses and received feedback from over 600 people. We appreciate all of you who took the time to voice your concerns and your anticipation for reopening our church! We are also listening to the Alameda County Health guidelines and weighing in on all of this thoroughly.
We've prepared a Reopening Plan that will continue to be updated as things begin to change within our County. Please be sure to read all of the points listed below the image.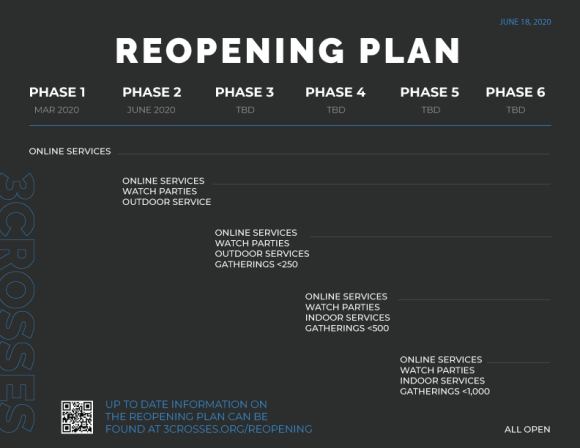 CLICK TO ENLARGE
Though we are progressing toward a full campus reopening date, we wanted to point out that, because we are a larger church, you may see other smaller-sized churches resuming in-person indoor services sooner than 3Crosses. Even though our sanctuary holds 1,750 people, we can only allow a maximum of 100 people under the current California recommendations, and a maximum of 25% (or 45 people) in our other rooms such as the Chapel. Because of this, we will push out our Sunday in-person indoor meeting date until more restrictions are lifted and it is deemed safe for us to gather again with around 500 people in attendance or 40% of room capacity.
In the meantime, we are preparing to reopen by:
Deep cleaning our facility & increasing the frequency of cleaning (in between services).

Adding an online ticketing system to be able to help regulate attendance & promote social distancing.

Adding live stream capability to our main sanctuary & streaming to specific campus locations.

**

Changing service times to help with social distancing;

new service times

will be

9am, 11am

&

5pm beginning 6/28/20.

Shortening service times to help with space in between services.

**

Planning an

outdoor

5pm service option on 6/28/20 (the online service option will also be available)

Requiring all Staff and Volunteers to wear protective masks (unless on stage), social distance and to stay home if feeling sick.

Recommending all Attendees wear protective masks, social distance and to stay home if feeling sick.

Using single-serve communion packets on Communion Sundays.

Accepting offering online, through our app, by mail and in designated areas in the lobby.

Limiting refreshments to bottled water & prepackaged food.

Adjusting our 3Crosses app to provide online Bibles, announcements, giving and other resources.

Creating new traffic flow paths to help with social distancing.

Designating & preparing special areas for those at high-risk.
We are eager to be back together and we are preparing our campus and our teams for that special day! If you have any questions or concerns about our reopening plan please feel free to reach out to us.
We look forward to seeing you soon!
Danny Strange
Senior Pastor
Dear 3Crosses Family,
Many people are wondering, "When will 3Crosses reopen?" So, I want to give you an update on our church - adjustments we've made this season and a glimpse into what our plans are going forward.
FIRST, I'd like to say that I miss being together as a church family. I miss getting to see your smile and feel your warm greetings! We know that God created us for connection with Him and, if we didn't know before, He also created us to be in connection with each other and we miss it!
SECOND, like many churches and businesses affected by COVID-19, 3Crosses has also had to adjust the way we operate and do ministry and though our campus has closed, our church ministry has never stopped. We believe in the mission of reaching the world with the transforming love of Jesus Christ and we are committed to continually finding new ways, even in this rough season, to do just that! We have begun Online Sunday Services, Community Groups, House of Prayer, Women's Ministry, Men Ministry, Kids & Students and many of you have seen or been able to be a part of some of the new ways we're coming alongside our Community during this season:
We've expanded our food pantry which is now caring for over 700 families each week (

including delivery to those unable to leave their homes

)

We've been able to help those experiencing unemployment with our benevolence fund

We're finding ways to thank and bless our essential workers

We're partnering with our local Chamber of Commerce, local businesses and churches to care for and serve our community together

Our Student & Kids Ministries will be having a

drive-thru

graduation celebration later this month to honor the 2020 graduating classes



THIRD, in addition to finding new ways, we've also come to the realization that some of what we've done will not be able to happen again for quite some time. Our church leadership has agreed to follow our County's Shelter In Place Guidelines, and we've developed a plan to eventually reopen our church for gatherings that will be:
in phases

in cooperation and coordination with other local churches

in line with our County's reopening phases
Even when we do reopen our campus, we can all agree there will be a new normal!
Once we are able to gather again physically for worship, we envision using multiple venues during worship service times (Main Auditorium, Chapel, Senior Adult Center, Children's Ministry Center, Online, etc.) with worship and a broadcast message to each venue. A reservation system will be used based on gathering size restrictions set by our County, and as restrictions loosen the gathering sizes will change. When it's an option for us, we'll be ready to move forward!
Another effect of not gathering together is that our (in-person) General Fund giving has decreased. This fund helps to fuel all of 3Crosses Ministries from our Communities to Kids Departments and because of:
the

length

of this season, through the foreseeable future

adjustments in ministry focus

our hearts to be good stewards of all that God has entrusted us with
We've decided to make some very difficult staffing decisions. Many of our staff have taken pay cuts and a few, who no longer have job duties as a result of the changes in the ways that we can do ministry, have either been temporarily or permanently laid off.
LASTLY, we don't have all the answers, we're not sure when we'll be able to move forward but we will be ready when the day comes and we are longing for the day that we can all gather together again!
We thank you and we appreciate your support, your prayers for our church and staff, and your prayers for our surrounding communities who are also going through so many changes. God is working through His church (His people) to bring the transforming love of Jesus to the Bay Area and we are proud to partner with you in this mission!
Looking forward to seeing you soon!
Danny Strange
Dr. Danny Strange, Senior Pastor
"Be completely humble and gentle; be patient, bearing with one another in love. Make every effort to keep the unity of the Spirit through the bond of peace." ~ Eph 4:2-3
Dear 3Crosses Family,
As the Coronavirus (COVID-19) continues to spread and we all wait through the Shelter In Place order we want to encourage you with some amazing ways that we're seeing a fresh movement of God at 3Crosses. Though this has pressed us all, it has not crushed us. Last week we saw more people at church online than in an average 'at church' worship Sunday.
If you missed what's been going on, here are some updates:
We launched an interactive

Online Sunday Service

with worship, Biblical teaching, chatroom & prayer -- Sundays at 8am, 9:30am and 11am

We started

Daily Devotionals with Pastor Danny

| Mon - Fri from 9-9:15am

Stay connected |

Weekly Email

(

click here to sign up

) & social media:

Instagram

|

Facebook

Community Groups

are

still

meeting using Google Hangouts (

click here

)

3C Students are on Instagram

Live

& Google Hangouts

3C Kids are on YouTube, Facebook & Instagram as well as enjoying '

At Home

' curriculum.
In addition to these things we've also begun reaching out to our Community through the 3C Care Network. We know that many in our 3Crosses Family are experiencing a challenging season as COVID-19 is not only causing sickness but has also caused the shutdown of many companies around the world, resulting in many job losses.
As your church family, we want you to know we are here for you. Everything we have is God's and it is our desire to care for our church family and our community during this difficult time. If you, or someone you know, are in a season of financial hardship, we would love to help.
Here are some ways we can support, serve and share with you:
Prayer | 30 Day Prayer Journey & Prayer Support Line (510) 732-4007

Mental Health + Peace | Find best practices for emotional & mental health

Food Pantry | Open every Saturday from 9am-12pm

Benevolence | Everything we have belongs to God
Or if you are in a season of financial stability, we invite you to invest in kingdom work through our ministry at 3Crosses. Find more information at 3Crosses.org/care.
We love, miss and are praying for you daily!
Danny Strange
Dr. Danny Strange, Senior Pastor
"And my God will meet all your needs according to the riches of his glory in Christ Jesus." (Phil 4:19)
Dear 3Crosses Family,
As promised, during this quickly changing season we want to keep you up to date with all that is happening here at 3Crosses in light of the Coronavirus (COVID-19) and the recommendations we're receiving from our federal, state, and local governments.
You may have heard that all gatherings of 250 or more people have been advised to cancel and those who are +60 years old are advised to stay home and away from crowded social gatherings as much as possible. In addition, Contra Costa County has restricted gatherings of 50 or more people. We want to be able to care for you in the best way possible and so we have decided to move forward with Canceling Our Sunday Service 'Gatherings' for the Next 4 Weeks.
In the meantime, please plan to join us for:
An

Interactive Online Sunday Service

which will include pastoral leadership, worship, Biblical teaching, chatroom and prayer --

beginning

this

Sunday at 8am, 9:30am and 11am -- find the link,

on Sunday

, at 3crosses.org

Stay connected through our

Weekly Email

(

click here to sign up

) or follow us on Instagram or Facebook

Also, many Community Groups are still meeting (

click here to find one

) we want to encourage you to start a

Watch Party

-- connect with your community group, some of your friends or neighbors and watch the service together --

online

3C Kids Ministry

will have

online resources

available too

-- find the link,

on Sunday

, at 3crosses.org
Our hope is to be able to meet again on Easter Sunday, April 12th -- but we'll keep you posted as this continues to unfold!
We're going to miss seeing you here at 3Crosses so please 'check-in' in the chatroom on Sundays and let us know you're there with us.
Take care everyone!

Danny Strange
Dr. Danny Strange, Senior Pastor
PS FAQs Are Below
I will say of the Lord, "He is my refuge and my fortress, my God, in whom I trust." Psalm 91:2
Dear 3Crosses Family,
The most often repeated command in the Bible is 'Do not be afraid'. Although it is wise to take precautions, we should do our best to be hopeful in situations like these. And as we comply with the recommended precautions, we are finding that our gatherings are classified as medium in size (not large gatherings of +1,000) -- because our attendance is spread out over 3 services.
In addition to the precautionary measures we mentioned on March 5, 2020 (listed below), we will also be implementing the following:
Cafe 4 will be closed on Sunday (to be sure our crowd size stays under 1,000)
Our services will remain 70 minutes long which is in alignment with Alameda County's recommendations
In the case of communion, we will be using single serve packets (beginning April)
Balcony will remain open - so that people can spread out
We will not be passing offering plates during services and in place of this, we have online giving as well as giving locations in our lobby (wooden offering tables/pillars) commonly known as "Giving Pillars"
We will also be offering an online service during our 11am (PDT) service time. Check back on Sunday for a link!
We look forward to seeing you (online or in-person) and worshiping Jesus with you this Sunday!
Danny Strange
Dr. Danny Strange, Senior Pastor
PS ALL future updates will be posted on this webpage
Dear 3Crosses Family,
As you know, the Coronavirus (COVID-19) is an emerging situation. We would like to urge you to be praying for all the people involved and for our local government and community leaders.
Although there have been no cases reported at 3Crosses, we would like you to know that we are monitoring the progress of this virus and we want to assure you that we are considering and taking precautionary measures to protect and care for our staff, volunteers and all attendees.
Our facilities are carefully cleaned on a regular basis,
We provide hand sanitizer stations in our lobby,
During our "greeting time" we are encouraging everyone to fist bump or nod as a way of greeting each other,
Our door greeters are also encouraged to fist bump or nod as a way of greeting guests.
We'll also be using the single serve communion option.
Additionally, if you are not feeling well or choose to stay home, you can watch our sermons online on Mondays at: Watch or Listen to Sermons Online. Also, we are working behind the scenes to be able to live stream services in the near future!
In the meantime, the Center for Disease (CDC) advises us to:
Avoid close contact with people who are sick.
Stay home when you are sick

(cold & flu-like symptoms).
Cover your cough or sneeze with a tissue, then throw the tissue in the trash.
Wash your hands often/regularly with soap & water for

at least 20 seconds.
While asymptomatic travelers from China are not mandated to observe a 14-day quarantine, we ask you to consider refraining from attending church services, events and ministries until the 14-day time-frame has been observed. We also ask that anyone returning from high-alert areas (currently South Korea, Iran, Italy, Japan) consider doing the same.
Most importantly, let's remember that God is fully in control and that we have an opportunity to demonstrate our faith in Him through this season.
We are preparing for an amazing weekend at church & we look forward to seeing you here!
Danny Strange
Dr. Danny Strange, Senior Pastor