Welcome to 3Crosses Kids!
➤ Nursery - 5th Grade WELCOME BACK!

➤Classes OPEN every Sunday
Nursery (age 3Months-Age 2 )
Runners (ages 2 and up)
Pre-K/Kindergarten: (Kids born before/on September 1st 2018 - Kindergarten * Must be FULLY potty trained
1st-3rd Grade (CMC)
4th and 5th Grade (Chapel)
Join us for a time of games, crafts, Bible Story time, small groups and lots of fun! This is your time to grow in your relationship with the Lord with other kids your age!
Due to Covid-19 restrictions, we require a pre-registration form to be filled out by clicking on the links below.
*Please sign up WEEKLY and fill out 1 form per family*
SIGN UP HERE FOR september 26th
➤

Children's Ministry for 3Crosses Español at 1pm.
➤ UPDATED 3Crosses Kids Guidelines for Sunday Morning
Families will be required to answer a health screen check
Kids will be required to have their temperature taken
Everyone will be required to wear masks throughout the service
Please keep your children home if they have any symptoms of cough, runny nose, fever, sore throat or anyone in your house has been exposed to COVID.
Parents must remain on campus
➤ JOIN US FOR FALL FESTIVAL: SATURDAY, OCTOBER 23RD
3Crosses Kids Fall Festival is Back! And you won't want to miss it!
Join us for a full day of FUN October 23rd, 2021 from 11am -2 pm at 3Crosses Church in Castro Valley! This is a free event for the whole community! Incite your friends and neighbors to join in the fun!
Activities will include; balloon animals, bounce houses, a pumpkin patch, face painting, paintball, climbing wall, pony rides, trunk or treat , games, games, games and more!!
We encourage you to come dressed up in costume *no scary costumes please*
➤VOLUNTEER FOR FALL FESTIVAL
We NEED volunteers to make FALL FESTIVAL HAPPEN!
➤ JOIN US EVERY WEDNESDAY NIGHT FOR FAMILY NIGHT!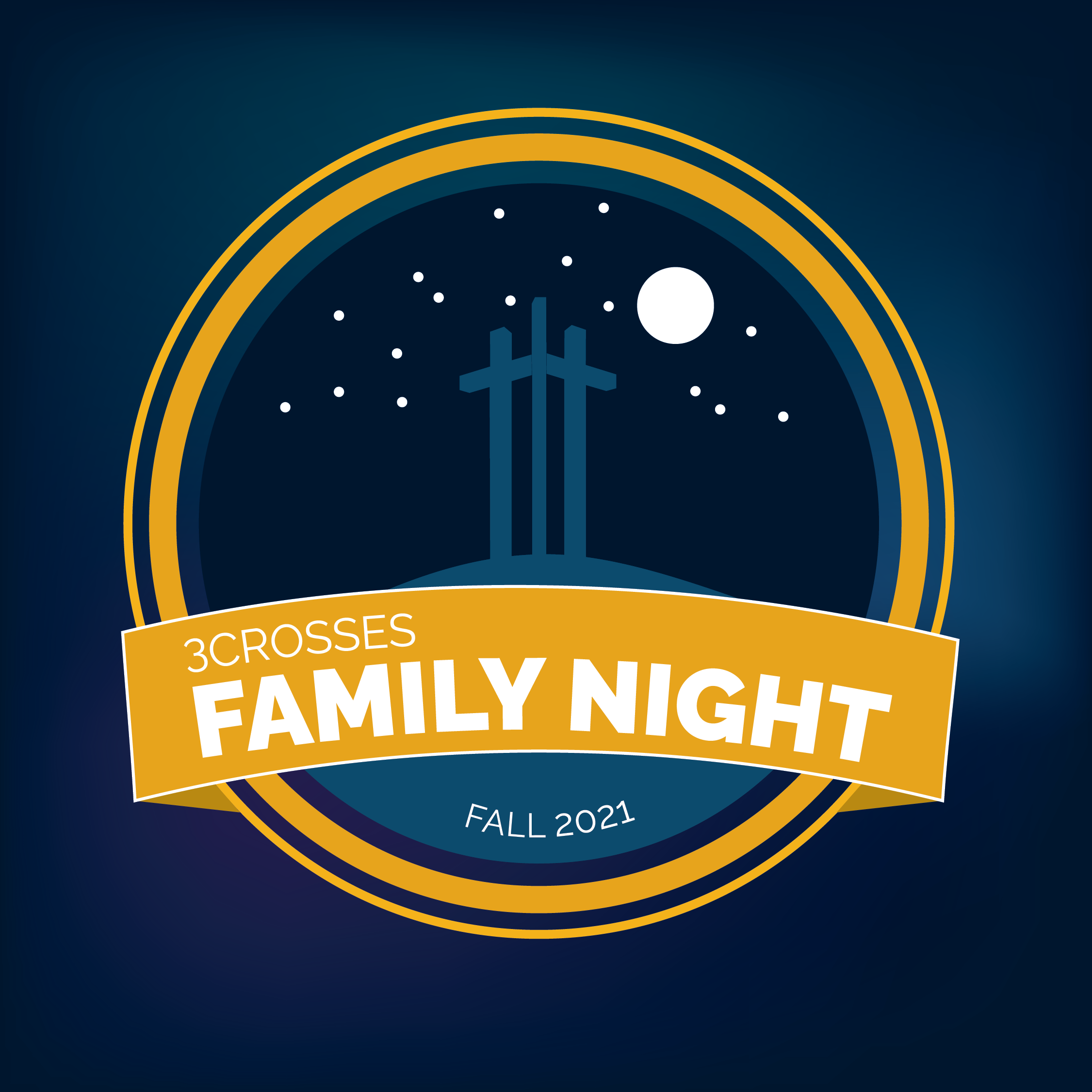 Starting September 1st we will be kicking off FAMILY NIGHTS! Check out the promo video here:

Join us EVERY WEDNESDAY FROM 5:45-6:15 FOR DINNER!! We will have dinner for your whole family so come hungry and have a lot of fun before the communities begin! *dinner is FREE, donations are greatly appreciated*
Family Nights will be every Wednesday from 6:30-8:30pm

and this is a time that your whole family together can gather at the church and grow in community. We will have dinner together and then break into our communities throughout the church. If you have kids from nursery to 5th grade you can drop them off in our kids ministry and if you have students they can head over to 20/20 and omega, which is our middle school and high school ministry.
Parents come join us in the chapel for 3Crosses Families from 6:30-8pm

for a time connection with other parents, fun, and message to encourage us to grow and partner together as we learn to raise our family in Jesus.We will be going through an awesome curriculum called Intentional parenting where we will learn some action steps that we can apply to our lives from God's Word in order to intentionally lead our family to Jesus.
We are so excited to step into this new season of ministry and we cannot wait to see you there: Sign up your KIDS here!

Hope to see you Wednesday Nights!
---

MASTERPIECE : ART WITH MS. JEN CLASSES, FALL 2021

SIGN UP HERE

---
---
---
➤

SU

NDAY MORNING LESSONS


JOIN US THIS FALL, AS WE ARE DISCOVERING WHO GOD IS!
---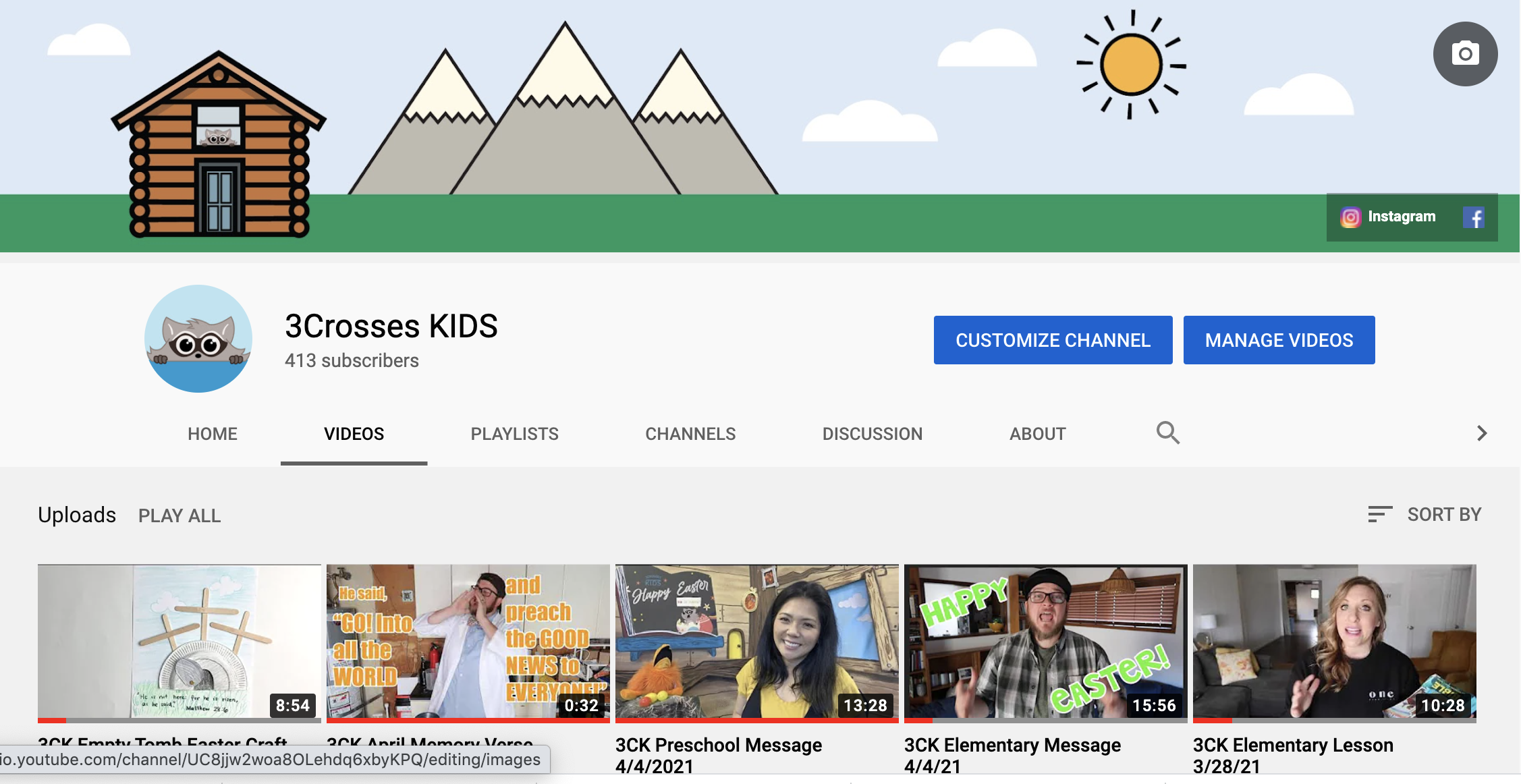 ➤
Join us online at our YouTube channel to find videos for both Preschool & Elementary Students, along with a craft, the memory verse of the month, a puppet show & a brand NEW super challenge!!
➤ Check out The Summit - a ministry specifically for 4th & 5th Graders as a part of 3Crosses Kids. 4th/5th graders also meet every Sunday morning at 11am In-Person (sign up here) and on zoom (boys and girls separate) email for zoom link!
➤
If you have kids in 6th-12th grade, visit
3C Students
to find ways to get them plugged in too.
---
➤ 3CK FAMILY CAMP: CANCELLED
It is with saddened hearts that we have made the difficult decision to CANCEL Family Camp 2021. Coming to this decision was extremely challenging for our team, but with continued uncertainty of the Covid-19 pandemic, keeping everyone healthy and safe is of the utmost importance.
We sincerely apologize for any inconvenience this may have caused. We are trusting in God and His timing and are looking towards ways to connect with our 3Crosses Families this Fall starting with - FAMILY NIGHT happening every Wednesday night from 6:30pm -8:00pm starting September 1st, 2021!.* More information coming next week!
We hope to see you Wednesday night September 1st for our Family Night Kick-off! As always please feel free to reach out to kids@3crosses.org with any questions!