Community Night
August 31, 2022 6:30pm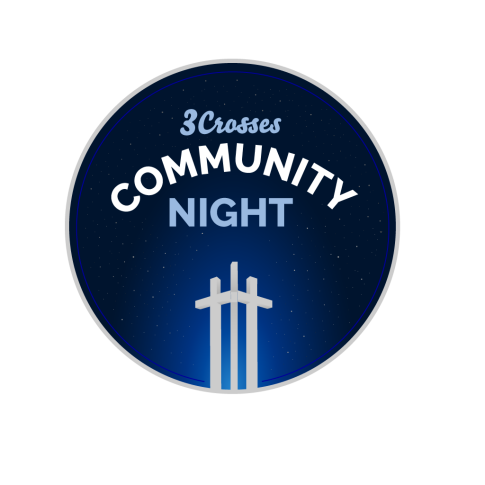 Join us as we kick off another season of Community Night (formerly Family Night)! Happening every Wednesday from 6:30-8:30pm starting August 31st - November 16th

*JOIN US FOR FAMILY DINNER FROM 5:45-6:15 OUT ON THE BRICKS* Dinner is FREE but a $10 donation per family (cash or credit card) is greatly appreciated. Here is the link to give directly ; just put Family Night in the memo!
Community Night will be every Wednesday from 6:30-8:30pm and this is a time that your whole family can gather at the church and grow in community. We will have dinner together and then break into our communities (see below) throughout the church. If you have kids from nursery-age to 5th grade you can drop them off in our kids ministry and if you have students they can head over to 20/20 and Omega, which our the middle school and high school ministries.
Parents - come join us in the chapel for 3Crosses Families from 6:30-8pm

for a time connection with other parents, fun, and a message to encourage us to grow and partner together as we learn to raise our family in Jesus. We will be going through a NEW curriculum called Family Discipleship: where we will be learning to LEAD your home through time, moments & milestones. You won't want to miss it!
Women - join the women's ministry gathering to study the truths in God's Word, share what we've learned and encourage and care for one another. We are currently reading and discussing "Open Hands, Willing Heart" by Vivian Mabuni. All ages are welcome. 7:00pm - 8:30pm // Room D3 (Adult Building) - Childcare available!
3Crosses University (3CU) - Want to learn how to love the Lord with all of your heart, MIND, soul and strength? 3Crosses University will challenge you to do exactly that as we study and learn together what following Jesus is all about. Join us in the Sanctuary at 6:30pm on Wednesdays as we tackle topics like biblical interpretation, the reliability of Scripture, and how you can improve your own personal time with God. You can register HERE.