Family Camp 2022
September 16, 2022 12:00am
Address: Alliance Redwoods Conference Grounds, 6250 Bohemian Highway, Occidental, CA US 95465
Contact: Sarah Foxworthy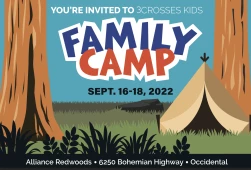 Come join us for Family Camp at Alliance Redwoods from September 16-18th 2022!
We will have an exciting weekend getaway for the entire family to connect with each other and have fellowship with other families. We have 4 Bible teaching sessions that start with family worship followed by a parent community time with each other, while your kids have fun in their own teaching and rec sessions. Enjoy accommodations surrounded by beautiful Redwoods, all inclusive meals and activities for everyone in your family!
Pricing for Family Camp
$175 per adult (13+)
$135 per child (6-12 years old)
5 and under are FREE (*kids must be 5 and younger during camp).
SIGN UP TODAY: WITH JUST A DEPOSIT ONLY
If you would like to save your families spot now and pay later, please use the non-refundable $175 deposit option when you sign up. This deposit will then go toward the cost of one adult. (If you are paying in full today, please do NOT pay the $175 deposit.) *All money balances due 8/1/22
For questions email: kids@3crosses.org
---
Family Camp FAQs
➤

Where are we going for camp?
Camp will take place at Alliance Redwoods Christian Conference Grounds – 6250 Bohemian Hwy, Occidental, CA 95465.
➤
What is the cost of camp?
The cost per person is $175 per adult (grandparents are welcome too!), $135 per child (6 and up), and children 5 and under are FREE. The final cost depends on your family size.
➤
What does the cost of camp cover?
Meals, lodging, and all family camp activities are included in the cost of camp. There are also extra activities available at additional costs (see below).
➤
Will we be staying in tents? Cabins?
There are two options for lodging based on a first come first serve basis.
Lodges: require a $30 upgrade due at sign ups. Lodges have a bathroom connected to the room itself for your family to use (either inside your lodge, shared with another lodge or dormatory style). Lodges also come with pillows, sheets and towels. Once those are booked out, you would be placed in a cabin with your family with a conveniently located bathroom nearby.
Cabin: Bathrooms are located conveniently located nearby. No linens or towels are provided.
➤
How will we be getting to and from camp?
You and your family will arrange plans on how you want to get there. Feel free to connect with other families to create a carpool or caravan. With Friday traffic, you do want to plan ahead as best as possible.
Check in will officially begin at 4pm, but we encourage you to get to the surrounding area early and explore around for a while before camp begins.
➤
What is the process of check in?
During check in you will receive t-shirts and nametags/schedules for each family member. This is when you will find out exactly which cabin your family will be staying in.
➤ Is there a payment plan?
There is not a payment plan, but there is the option to put down a deposit for your family. The deposit is the price of one adult ($175) and will hold your spot until you are able to pay the rest. (Your final payment must be made by September 1st before family camp)
➤ How do the extra activities work? Ziplining? High Ropes? Is there an extra charge?
There is a $15 per person extra charge for the free time activities, but there are a limited number of spaces as well as height/age limitations depending on the activity. Sign-ups for these activities will take place online on August 16th and will be available at a first come, first serve basis. These are great activities to experience with your kids!
➤ What is the schedule/structure of camp?
Meals have a start and end time, but you can come at any time within the hour that the cafeteria is open to eat. There will be a meeting Friday evening, Saturday morning, Saturday evening, and Sunday morning. We begin meetings altogether and then the kids break off after worship with their age groups and head to means designed just for them while the adults get a lesson in the main chapel. Rec (dye wars) will happen on Saturday and we will all meet up on the field for the game.